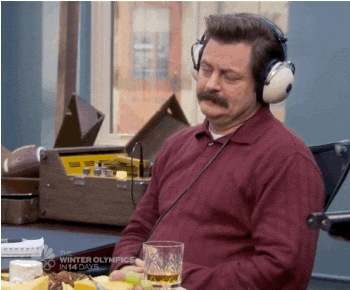 Anyone in the Active Minds National Office will tell you that I'm obsessed with podcasts. It all started several years ago with This American Life and Planet Money and really hit its stride when the first season of Serial emerged.
But, as much as I love the aforementioned podcasts, they can be suspenseful, require specific attention, and even a little stressful. So, I've amassed my list of my favorite podcasts that make me laugh and are just all-around entertaining. Do you have a favorite I missed? Tweet it to us @Active_Minds!
Ok, so this is an advice podcast that can sometimes deal with heavy subjects, BUT who doesn't want to be saturated with the unique brand of wisdom and love that Cheryl Strayed and Steve Almond bring to any conversation? Oh, and yes–I'm talking about that Cheryl Strayed. The author of Wild and Tiny Beautiful Things. I mean, who among us don't want Cheryl Strayed to be our cool aunt?
2. Not Too Deep (with Grace Helbig)
Do you watch YouTube videos that aren't about cats, puppies, or seemingly painful human follies with any regularity? Then you probably know Grace Helbig. Helbig is a comedian who has published two best-selling books, starred in films like Camp Takota, and even had her own show on the E! Network. This podcast is all about dumb stuff. Seriously. The deepest question entertained on the show is who the guest would want to throw cold spaghetti at if given the opportunity. You need this in your ears.
3. The Nerdist
Chris Hardwick has made his way in entertainment as a master host and great business dude. But for the last 6+ years he's also been doing this interview podcast with his friends Matt Mira and Jonah Ray. They interview comedians, entertainers, and other random famous folks for an hour and the back catalogue is vast. Scroll through and you're sure to find at least 10 episodes with people you adore right off the bat.
4. Girl on Guy
Ok, so this is a little deeper interview show, but Aisha Tyler (of Friends, Archer, The Talk, and Criminal Minds fame) is literally the cool chick you always wanted to hang out with, and you didn't think you ever could, but she came up to you one day, put you at ease, and you ended up talking well into the night and forging a life-long friendship. A bunch of the old episodes are now behind a pay wall, but I would recommend subscribing and just seeing what pops up next for free. It's sure to be great.
5. Unqualified (with Anna Faris)
Ok, I realize people have kind of a love/hate relationship with Anna Faris's characters, but after listening to this podcast you can't deny that she's super authentic, hilarious, and incredibly nice. Each week she's joined by a celebrity friend and they give their unqualified advice to listeners. It's not always politically correct, but if you can look past those moments, it's definitely entertaining.
This sounds boring, right? But it's actually comedian Paul F. Tompkins portraying H.G. Wells in conversation with another comedian portraying–you guessed it–another dead author. And it's hilarious. Start with the one where Kristen Schaal portrays Tennessee Williams, and if you don't laugh out loud at least three times, tweet me @maggiebertram, and I will personally apologize.
I am in love with this podcast. It's one of the new Buzzfeed podcasts and the hosts, Heben Nigatu and Tracy Clayton, are literally two of the most engaging and charming podcast hosts I have heard in a long time. They take on all kinds of social issues (with guests like Hillary Rodham Clinton and Melissa Harris Perry), but they do it in a very approachable way that weaves in humor masterfully. Oh, and as I'm writing this, the week's guests are Eugene Mirman and John Roberts from Bob's Burgers, so how can you really go wrong?
8. Sampler
I love all of Gimlet Media's podcasts, but Sampler is a treasure. It's literally a podcast about what is happening in podcasts (meta, right?). Host Brittany Luse (of the podcast For Colored Nerds) leads listeners through the latest and best must-hear moments in podcasts. How do you think I heard about The Dead Authors Podcast?
Other awesome/funny/lighthearted stuff to plug into your ears:
The Indoor Kids — Emily V. Gordon and Kumail Nanjiani plus a guest talk about video games
Mystery Show — Starlee Kine solves mysteries that can't be answered by the internet
The Dinner Party Download — a potpourri of the week's arts and leisure news bites from NPR
Enjoy!