Did you know that when you shop Amazon Smile, a portion of all your sales can go to Active Minds and our life-saving work? Pretty cool, huh? Start shopping at smile.amazon.com and help us change the world!
Now that August is officially upon us, it's time for new and returning college students to get ready to head back to campus. And with that comes the endless back-to-school shopping trips so you can stock up on everything you need — textbooks, snacks, school supplies, dorm decorations and so much more.
But do you have anything on that list to help support your mental health? Take a look at these nine items, all of which have helped me better take care of my mental (and physical) health during the school year.
Sleep
It's one of the most important (and most frequently sacrificed) aspects of mental health maintenance — especially for college students. I'm a big fan of sleep (and good sleep at that). Here are some of the products I've used to help myself get eight full hours of shut-eye each night:
1. A White Noise Sound Machine ($49.89)
This handy gadget is perfect for anyone who has a noisy roommate. It has a built-in fan that re-creates the sound of rushing air, creating "white noise" and effectively blocking out noise on a broad range of frequencies. Fraternity brothers chanting outside? No problem. Roommate stumbling in after a fun night out? You can't hear them, you're fast asleep.
2. Lavender Breathe Right Nasal Strips ($12.19 for a pack of 26)
Okay, so I was first introduced to these little angels because my husband snores. He went out and bought these and at first I made fun of him — "you got lavender nasal strips???" but now I use them every night. First of all, they help you breathe better, even if you're not that stuffy. And the lavender scent is just lovely, it totally helps lull me to sleep. Sorry for making fun of your fancy strips, Rich!
3. Melatonin tablets ($4.84 for a bottle of 60)
On nights when I feel wound up and know getting to sleep won't be easy, I take a melatonin tablet to help make myself tired. Melatonin is a hormone your brain produces to help control your sleep and wake cycles. Doctors were able to replicate that hormone in tablet form, so you can help tell your body "hey, it's time to go to sleep." Just make sure you don't take too much, or waking up can be really difficult!
Stress Relief & Self-Care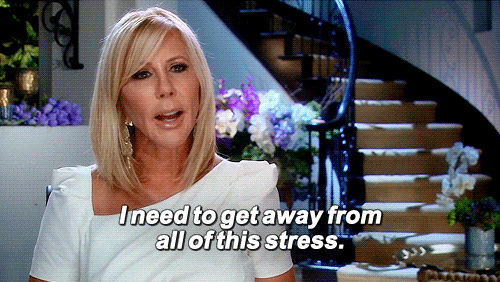 No matter how hard we fight it, stress is a natural part of college (and life, for that matter). But there are things we can do to reduce stress and help ourselves cope. Here are some of my favorite stress relief and self-care products:
4. A Microwavable Neck/Shoulder Heat Wrap ($20.99)
I'm one of those people who carries my stress in my neck and shoulders — I develop these big terrible knots that make hunching over a book or computer really painful. My sister introduced me to these neck/shoulder heat wraps and they're amazing — just pop one in the microwave for 30 seconds and you've got a lovely heating pad to help soothe muscles and decrease your stress.
5. Eucalyptus Spearmint Pillow Mist ($15.00)
Okay, so this kind of also falls into the sleep category, but this pillow mist from Bath and Body Works is amazing. Just spritz a little on your pillow case before you go to sleep and it will help you unwind and de-stress. I also used to spray some on my winter scarf when I was on my way to a stressful exam or presentation; I'd take deep breaths and calm myself, instead of being anxious about the impending assignment.
6. Carbonated Bubble Clay Mask ($10.39)
I'm a huge fan of face masks for self-care purposes. I have several, but my favorite one to use when I'm stressed is the Elizavecca Milky Piggy Carbonated Bubble Clay Mask. It goes on like a normal face mask but the oils from your skin activate the carbonation and it starts to bubble. Like, a lot. Here's a picture of me the last time I used it. I spent most of the time laughing at myself; it's just fun to use. And then once you rinse it off, your skin is beautifully clean and soft. Win-win!
Physical Wellness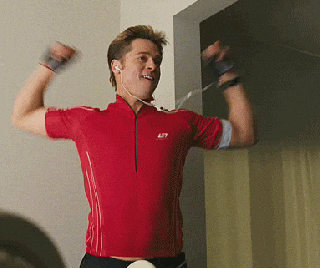 There's no such thing as mental health without physical health and vice versa. So here are a few products I've used (or, in the case of the tea kettle, wish that I had used) that benefit both!
10. An Infusion Water Bottle ($12.95)
I know that hydration is an important part of wellness, but I have such a hard time drinking enough water every day. One thing that's really helped is using an infusion water bottle so the water tastes better; I actually want to drink the water, instead of feeling like I need to. Just store some lemons, limes or berries in your mini fridge and toss them into the infuser whenever you want to spruce up your water.
11. A Pill Organizer ($8.95)
Just like I'm bad at forgetting to drink enough water, I often forget to take my anti-depressant. OR, I'll take it but then a few hours later I can't remember if I did or not. I decided to buy a pill organizer, so I always know whether I took it that day or not. I put it in a place I'm sure to see it (right on my desk), instead of  deep at the bottom of my purse where I might see it. I haven't missed a dose since I bought this!
12. An Electric Tea Kettle ($14.79)
I was a huge coffee drinker in college. I worked at the student newspaper until the wee hours of the night and would guzzle cups of Joe like it was no body's business. It took a real toll on my teeth and made it harder for me to unwind before bed. I highly recommend trying to switch to tea, or at least subbing in at least one cup of tea for coffee each day. It's way better for you physically and there's also something super soothing about a nice cup of hot tea.